Grooved Ware revisited: a NSG conference in honour of Alex Gibson
Organisers – Alison Sheridan, Mike Copper and Alasdair Whittle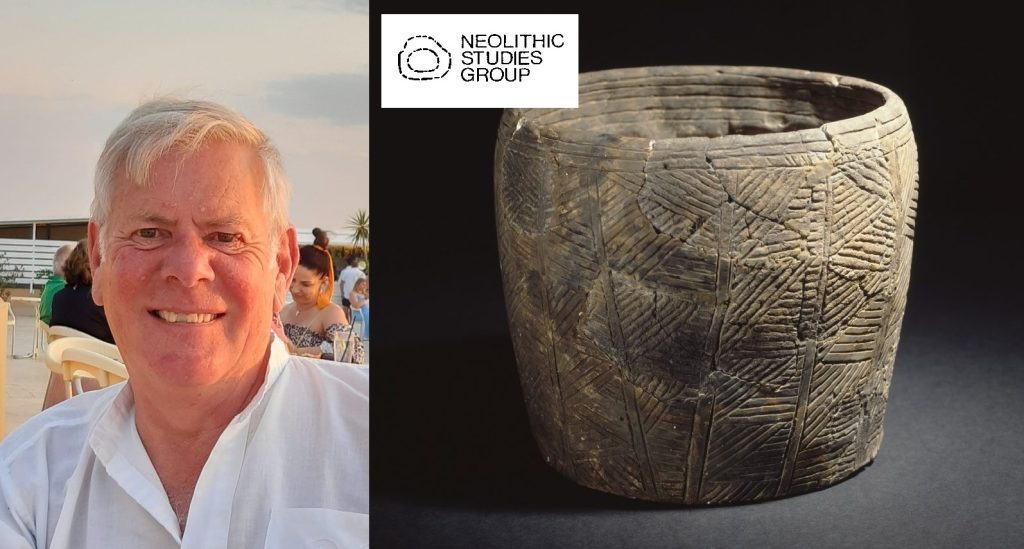 Twenty-eight years ago, on Mon 21 Feb 1994, the Neolithic Studies Group met in the British Museum to discuss 'Grooved Ware in Context'. This led to Ros Cleal and Ann MacSween's influential 1999 Grooved Ware in Britain and Ireland volume (NSG Seminar Paper 3).
We will revisit this theme in November 2022 through a cracking programme of fresh research and new discoveries including a mixture of new scientific approaches and innovative approaches to these wonderful pots.
Ticketing: Please note that this event is not free! There are limited in person tickets (maximum 70 spaces) that cost £20 but the conference will also be streamed live on zoom for a much reduced cost of £5. We appreciate these costs are higher than in the past but (a) we have been charging a tenner since Gordon Barclay was in charge, and (b) the hire costs for the hall and limited space are beyond our normal expenditure. In person attendance includes tea, coffee, biscuits.
Please use the ticketing options here to reserve an in person or zoom place for the conference. Then you'll need to pay for it before the event please!
To reserve your ticket, please use the Eventbrite link below and one of the two payment methods: https://www.eventbrite.co.uk/e/neolithic-studies-group-november-conference-grooved-ware-revisited-tickets-432429537387
By cheque: Please post to Tim Darvill, School of Applied Sciences, Bournemouth University, Fern Barrow, Poole, Dorset, BH12 5BB. Payment by Cheque payable to the Neolithic Studies Group
By bank transfer: Direct payment to: Sort code: 09-01-52, Account number: 72613800, quoting your surname followed by NSG22 as the reference number. If needed, IBAN: GB78ABBY09015272613819.
To summarise: in person costs £20, on zoom costs £5.
Programme
9.30: Doors open; registration
9.45–9.55: Alison Sheridan: Welcome and introduction9.55–10.20: David Clarke and Ann MacSween (presented by Ann MacSween): Skara Brae – the significance of the Grooved Ware assemblages
10.20‒10.45: Mike Copper: Scottish Grooved Ware Beyond Orkney
10.45‒11.10: Seren Griffiths and Neil Carlin: Continuity and Change: the timing of Grooved Ware-associated practices in Ireland
11.10‒11.30 COFFEE/TEA BREAK
11.30‒11.55 Ros Cleal and Josh Pollard: The only way isn't Essex, but it may be one of them…
11.55‒12:20 Alistair Barclay: Between Essex and Wessex – hengeless landscapes and a different history
12.20‒12:45 Elina Brook: Grooved Ware from the Army Basing Programme, Wiltshire
12.45‒13.00 Discussion
13.00‒13.45 LUNCH (Delegates to make their own arrangements)
13.45‒14.10 Paul Garwood: Grooved Ware in South-East England: social geographies, chronology, and interpretation
14.10‒14.35 Andy Jones: Grooved Ware in Cornwall and Devon
14.35‒15.00 Sarah Jane Botfield: Representations of the tangible world on Late Neolithic Grooved Ware ceramics
15.00‒15.15 Discussion
15.15‒15.35 COFFEE/TEA BREAK
15.35‒16.00 Lilly Olet et al. (presented by Lilly Olet): Land of milk and honey? Exploring Grooved Ware vessel use in Neolithic Wales through organic residue analysis and compound-specific radiocarbon dating
16.00‒16.25 Roy Loveday: Grooved Ware and the hengiform problem
16.25‒16.40 Discussion
16.40‒16.50 Alex Gibson: Reflections
16.50 Wrap-up
17.00 END